Cloudbusters Paragliding School is Scotland's one and only professionally run paragliding school. Cloudbusters has been created, managed and run by Peter Shields (Chief Instructor, pilot and owner) for almost 40 years.
Peter is joined by a number of other extremely experienced pilots who together will ensure you have an unforgettable, safe and enjoyable time.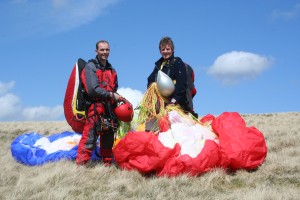 Above, Peter is pictured here (right) with Cloudbusters Flying Instructor, Billy Casson. (left)
Cloudbusters is registered with the British Hang Gliding and Paragliding Association (BHPA) and trains Pilots according to their syllabus.