Sleigh Bells Ringing?…….Sooooo last year!!!  Take to the skies yourself with Cloudbusters Paragliding this Xmas. 
Ho Ho Ho….it's that time of year again – just how do you top last year's present when you are looking for something different, adrenalin fuelled, original, exciting and realistically priced?
Welcome to Cloudbusters – we have the perfect solution for your Christmas gift dilemma………………a Paragliding Fun Day Voucher!
Cloudbusters is Scotland's longest established Paragliding School, celebrating almost 25 years of training people like you and your friends to enjoy the exhilaration and excitement of paragliding.   Forget about the 'I'm a Celebrity' terror of being unceremoniously shoved out of a helicopter!   Cloudbusters Fun Day students, enjoy the day learning from experienced instructors how to handle the canopy, master their landing techniques and launch successfully – ready for their first flight from top to bottom of the modest hill at the Club's training site.  A real thrilling day out in the Lanarkshire countryside.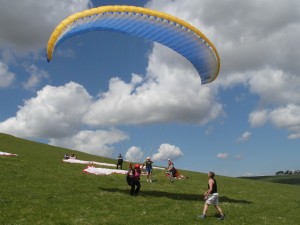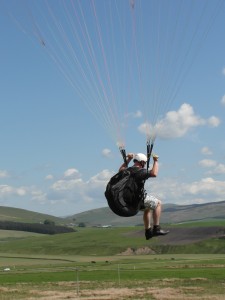 Yup – he's flying!!!
Contact Cloudbusters for more information and book your Fun Day Vouchers for £130.00 per person, including full day tuition and equipment.
Email peter@cloudbusters.scot or call Peter Shields on 07899 878509.